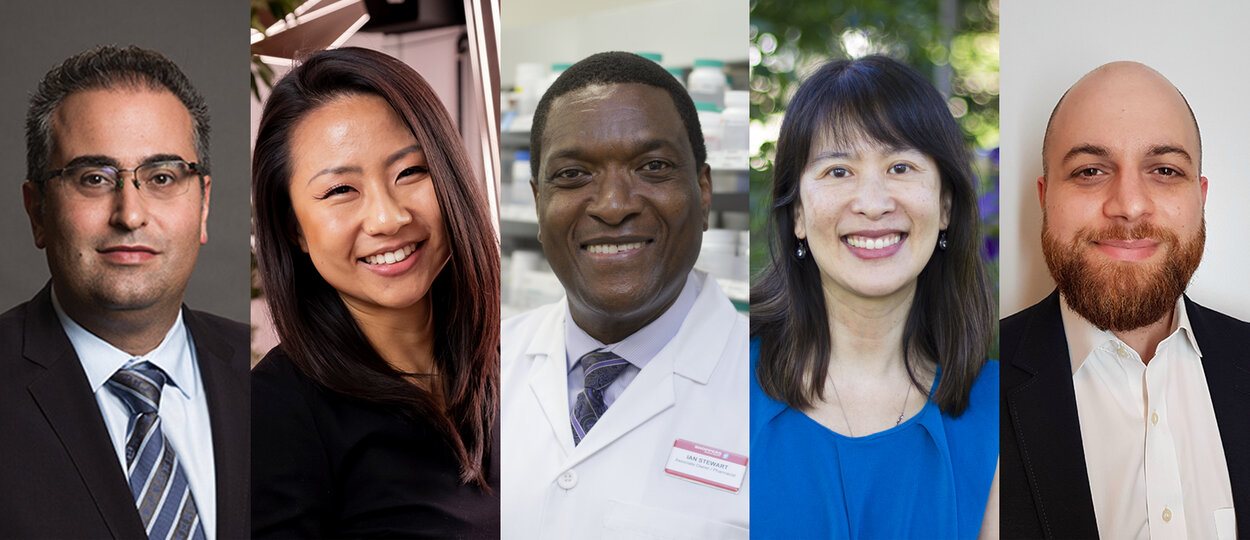 Earlier this year, the Leslie Dan Faculty of Pharmacy was pleased to announce our inaugural Alumni Awards program to honour exceptional alumni for their outstanding accomplishments in pharmacy practice and pharmaceutical sciences.
Ranging from emerging leadership to lifetime achievement, the seven new awards highlight achievements and contributions of recent and long-standing alumni as well as corporate partners. Recipients of the awards were chosen by the Selections Committee made up of thirteen volunteer members.
"We reached out to our alumni community and had a fantastic submission response," said Susan Drodge, Director of Advancement at the Leslie Dan Faculty of Pharmacy. "This really shows how engaged our alumni are and also how many people have achieved incredible things since graduating," she said.
While each award recognizes a different form of contribution and success, recipients also demonstrated a significant commitment to the Leslie Dan Faculty of Pharmacy community and a strong participation in activities that help to enhance the stature and reflect the mission of the Faculty overall.
"Our alumni are a fundamental part of what makes our Faculty exceptional," said Dean Lisa Dolovich, Leslie Dan Faculty of Pharmacy. "We have graduates leading some of the most innovative work happening in both pharmacy practice and pharmaceutical sciences. The fact that so many stay closely connected with our Faculty means our current students benefit directly from their experience and success," she said.
Congratulations to this year's Alumni Award Winners!
ALUMNI AWARD RECIPIENTS 2020
LESLIE DAN FACULTY OF PHARMACY INDIVIDUAL AWARD CATAGORIES
Leadership Award
John Papastergiou, 0T2 BScPhm
Community Pharmacist Owner & Assistant Professor Status
Leslie Dan Faculty of Pharmacy
After graduating from the Leslie Dan Faculty of Pharmacy in 2002, John Papastergiou has established himself as a pharmacy business leader of the highest order, a researcher, an innovator in the provision of clinical series in the community pharmacy setting, a mentor for all levels of pharmacy students and a shining example of how to run a thriving community pharmacy practice. Among many awards and recognitions, in 2019 John was named by the International Forum on Advancement in Healthcare as a top 100 healthcare leaders globally. He was also presented with the OPA Award for Excellence in Research and Academia.
What peers say about John:
John is a difference maker, a true leader in every sense of the word, a marvelous ambassador for the profession of pharmacy, and an inspiration to pharmacists and pharmacy students. He has demonstrated that with determination, persistence, collaboration and willingness to succeed, difficult things can be accomplished.
Words from John:
"It is always both exciting and humbling to have your work recognized in any capacity. Receiving an award from the Leslie Dan Faculty of Pharmacy is particularly special because it represents a recognition from my peers and the institution that helped to shape my career. It distinguishes the unique achievement of being able to run a large business but at the same time excelling in specialty areas like education, research, speaking, and mentorship. The Faculty provided me with my first exposure to pharmacy practice and showed me that the profession would offer the unique opportunity to combine my keen interest in science and my background in research with my desire to work with patients and positively impact patient care. The Faculty also introduced me to those individuals that would go on to be my mentors, colleagues, and friends. Having the opportunity to collaborate with these great people has, undoubtedly, been one of the highlights of my career."
Hall of Distinction Award
Alice Tseng, 9T1 BScPhm & 9T4 PharmD
HIV Pharmacotherapy Specialist, Immunodeficiency Clinic
Toronto General Hospital
Alice Tseng graduated with a PharmD in 1994. Since then she became one of the first pharmacists to establish a specialty practice in HIV ambulatory care and worked to co-found the Ontario HIV Pharmacists Specialty Group and the Canadian HIV/AIDS Pharmacists Network. She has authored or co-authored over 60 publications and book chapters, presented over 40 papers at national and international research conferences, and maintains comprehensive websites on both HIV and hepatitis C drug interaction and pharmacology information.
What peers say about Alice:
Alice Tseng was a pioneer in providing pharmacy care to patients with HIV. Her work has made it easier for pharmacists to work with patients with HIV to improve their quality of lives.
Words from Alice:
"I'm very humbled and very honoured. I know there are other alumni out there who are deserving of this award. I have collaborative and supportive colleagues across the country and at my own clinic, and I have a good relationship with the community. The two-way respect and recognition with the community has been really valuable. Seeing a lot of patients through so many changes in so much of their lives has been really meaningful."
Alumni Service Award
Ian Stewart, 8T8 BScPhm
Community Pharmacist Owner & Clinical Instructor
Leslie Dan Faculty of Pharmacy
Since graduating from the Leslie Dan Faculty of Pharmacy in 1988, Ian Stewart has been active in many mentorship programs including the YMCA, Big Brothers Big Sisters of York and currently the University of Toronto, Faculty of Medicine Summer Mentorship Program. Ian's success in business and professional life despite facing many obstacles himself is truly an inspiration. To encourage minority students to enroll in the pharmacy program at the Leslie Dan Faculty of Pharmacy, Ian established the Afro-Canadian Scholarship in 2015 to recognize a deserving student entering Year 1 of the undergraduate program at the Leslie Dan Faculty of Pharmacy.
What peers say about Ian:
Ian is a true role model. He has a passion for teaching and motivating youth and a commitment to making a difference in the lives of the individuals he serves in his practice and his charitable work.
Words from Ian:
"If I know someone needs help, I don't wait to be asked. Why wait for someone else to do something? If I can do something, I should do it. I am delighted and honoured to receive the Alumni Service Award and am extremely grateful to have been selected as recipient of the inaugural award. I am proud to know that despite my humble beginnings, I have been able to positively impact countless lives."
Emerging Leader in Pharmaceutical Sciences Award
Soyoung Lee, 1T1 PhD
Chief Scientific Officer and Co-founder
Mera Cannabis Corp.
After receiving her Doctorate in Pharmaceutical Sciences at the Leslie Dan Faculty of Pharmacy in 2012, Dr. Soyoung Lee pursued a post-doctoral fellowship at the Hospital for Sick Children. She then became a research and development chemist at Apotex where she was later promoted to the role of scientific leader at Apobiologix. She has been extensively involved with the Leslie Dan Faculty of Pharmacy community as a mentor in research, pharmaceutical sciences, and in career development for other students. She is now the Chief Scientific Officer and one of the cofounders of Mera Cannabis Corporation.
What peers say about Soyoung:
Soyoung has inspired many others in pursuing graduate studies at the Faculty and subsequently commencing their careers in the pharmaceutical industry. She has demonstrated to others the potential of success that girls and members of visible minorities can achieve in pharmaceutical sciences.
Words from Soyoung:
"Being recognized by the Leslie Dan Faculty of Pharmacy as an emerging leader in pharmaceutical sciences means a lot to me since the faculty gave me the most precious gifts one can ever ask for. The faculty was my home and I cherish the fond memories of graduate school. Not only did the faculty offered cutting-edge research programs and diverse courses, I was very fortunate to meet so many great mentors and friends. My mentors taught me valuable lessons and provided me guidance that have allowed me to be a leader in my current field. My friends have provided me endless support and love during ups and downs of my life and the career path."
Emerging Leader in Pharmacy Practice Award
Peter Tolios, 1T3 BScPhm
Director, Pharmacy Operations
Loblaw Companies Limited
In the seven years since graduating from the Leslie Dan Faculty of Pharmacy, Peter has achieved a senior role in pharmacy operations at a major company and has been involved in several research initiatives. As a co-investigator, Peter led his pharmacy team to evaluate the implementation of personalized genetic screening in community practice setting as part of the Innovative Canadian Pharmacogenomic Screening Initiative in Community Pharmacy (ICANPIC) study. Peter has also made significant contributions to the experiential learning of PharmD students at the Faculty He developed the institutional and community site visit quality assurance parameters for the Advanced Pharmacy Practice Experience (APPE) curriculum and supported the standardization of the selection of community sites for the both the Early Pharmacy Experience (EPE) and APPE programs.
What peers say about Peter:
Peter is playing an active role in bridging the gap between the opportunities offered by expanded scope of practice in Ontario and their actualization in daily pharmacy practice. He is a proud alumni of the Leslie Dan Faculty of Pharmacy, with a true passion for improving patient care through collaboration with other health professions, patients, students, and the community at large.
Words from Peter:
"What a tremendous honour! A huge thank you to the Leslie Dan Faculty of Pharmacy, and the Alumni committee, for presenting me with such a prestigious award. I recall my 4 years at LDFP very fondly; it was those experiences that have since propelled my desire to find ways to give back to the Faculty. I truly believe that the best years of the profession lie ahead of us, and I am inspired by the change that is already taking place. By continuing to be involved, I am able to see the evolution of our practice from multiple lenses. It is this insight that empowers me to continue learning as well as teaching/guiding others."
LESLIE DAN FACULTY OF PHARMACY CORPORATE AWARDS CATAGORIES
Partnership Award
Pharmasave Ontario
"Pharmasave has greatly valued our opportunity to partner with, and support, the Leslie Dan Faculty of Pharmacy over the past 20 years. Our goal has been to support the development of exceptional future pharmacists and leaders in the profession. We know this can be achieved by contributing to their education, innovation, and community involvement experience."
- Billy Cheung, Executive Director, Pharmacy, Marketing & Professional Affairs, Pharmasave Ontario
Partnership Service Award
Canadian Forces Health Services Group
The Canadian Forces Health Services Group (CFHSG) is a distinct health care jurisdiction which functions at the federal (national) level. It is responsible for providing comprehensive health care to serving members of the Canadian Armed Forces (CAF), both within Canada and during military operations around the world. For the past seven years the Canadian Forces Health Services Group has offered experiential learning placements for up to twenty students per year. Students on rotation are exposed to a unique career path and are motivated and mentored to seek out other areas of professional development.