Message from Dean Lisa Dolovich
It has been nearly a year since we launched Emerge, Thrive, and Lead, the academic plan for the Leslie Dan Faculty of Pharmacy, created to guide our efforts over the next five years. Inherent in the title and scope of our plan is a sense of progress and momentum, a recognition that we continue to emerge from the crisis point of a global pandemic with important lessons learned, while also setting the stage for future impact, innovation, and growth.
It is remarkable to see how much we have accomplished over the previous year, making progress across all six of our themes of focus. We have created new roles to support our work in equity, diversity, and inclusion, covered significant ground in our Doctor of Pharmacy (PharmD) curriculum renewal initiative, and have made great strides in using artificial intelligence (AI) to advance pharmaceutical sciences research.
The Centre for Practice Excellence successfully launched the inaugural Leader-in-Residence program, culminating in a one-week leadership intensive for third-year pharmacy students that was fully enrolled in less than a minute. The Discovery Pharmacy delivered more than 3,500 immunizations to the U of T community and held the first-ever flu shot pop-up clinic on the U of T St. George campus. We celebrated the creation of the new GSK Chair in Vaccine Education and Practice-Oriented Tools, and faculty and staff from the Leslie Dan Faculty of Pharmacy continue to collaborate with health sciences colleagues across U of T on the development of the Scarborough Academy of Medicine and Integrated Health, set to launch in 2026.
Importantly, students were able to return more fully to campus, host events, attend lunch and learns, and build connections with faculty and peers. International rotations, in-person conferences, and scientific symposia have returned as key opportunities for learning and knowledge exchange. I look forward to the upcoming year and building on the excellent progress we have made together.  
Lisa Dolovich
Professor and Dean
Leslie Dan Faculty of Pharmacy
University of Toronto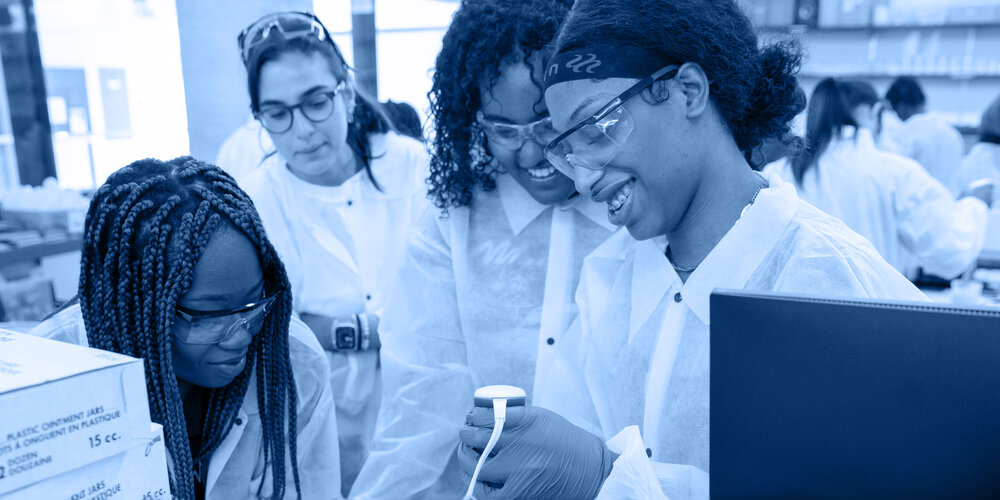 Champion Equity, Diversity and Inclusion
In the past year, we have made significant strides in expanding and deepening our work in equity, diversity, and inclusion (EDI). Creating a learning and working environment that fosters belonging and enables students, faculty, and staff to achieve their full potential is fundamental to our individual and collective progress.
Since January 2023, we have created three new EDI-focused administrative leadership roles to help advance our efforts in this important area. Lachmi Singh, director of equity, diversity, and inclusion, is leading the development and implementation of cross-Faculty initiatives, including training, outreach, and connecting us with a wide network of EDI professionals across U of T. As Indigenous engagement lead, Jaris Swidrovich is providing guidance and leadership on incorporating Indigenous Health, Indigenous Ways of Knowing about health and the importance of Indigenous Peoples' history on health throughout all aspects of our Faculty community. To integrate principles of EDI throughout our research pursuits, Sara Guilcher is providing guidance and expertise as the inaugural academic lead - research equity, diversity and inclusion.
 
Returning in-person for the first time since 2019, the Summer Mentorship Program, led by the Temerty Faculty of Medicine, welcomed Black and Indigenous high school students to U of T to explore careers in the health sciences, including pharmacy. Along with a team of student volunteers, Jaris Swidrovich, assistant professor - teaching stream and David Dubins, associate professor - teaching stream organized a day of events to highlight professional paths in pharmacy and pharmaceutical sciences.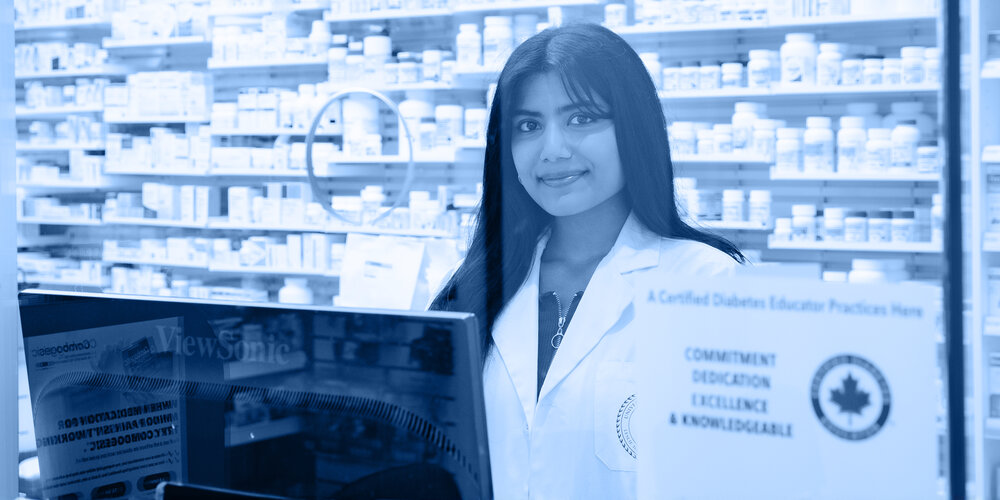 Educate Pharmacy for Tomorrow
As the top-ranked faculty of pharmacy and pharmaceutical sciences in Canada and among the top ten in the world, we strive for continuous improvement across our education, research, and operational programs.
Under the leadership of Jamie Kellar, associate dean academic, and Natalie Crown, director of the Doctor of Pharmacy (PharmD) program, we have embarked on an ambitious curriculum renewal process to re-evaluate and improve our curriculum, enhance student learning, and continue to create practice-ready pharmacists who can meet patient needs in a rapidly changing world.
"A curriculum renewal is a dynamic process of rethinking, reimagining, revising, and redesigning a program of study to enhance student learning and societal impact. Our renewed curriculum will be more nimble, with multiple paths and streams of credential opportunities"

- Jamie Kellar, Associate Dean Academic
The curriculum renewal leadership team also visited the University of California at San Francisco to observe their leading-edge three-year PharmD curriculum, and gained several insights that will help inform our next steps.
For many students, experiential rotations – particularly those that involve travel to another country – are a life-changing learning experience. International rotations were paused during the COVID-19 pandemic, resuming in 2022-23.
As students from the Leslie Dan Faculty of Pharmacy are again travelling internationally to learn about pharmacy in other settings, international pharmacy students have also returned to our Faculty to learn about the Canadian pharmacy experience.
In April 2023, the Leslie Dan Faculty of Pharmacy, in collaboration with Ontario Health, launched two new massive open online courses (MOOCs) to help patients, caregivers, and health care professionals enrich their knowledge and skills related to the use of biosimilar biologic medications. More than 700 learners from over 70 countries have enrolled in the courses since launch.
"As more biosimilars enter the market and clinical settings, there is a need for consistent and reliable information to help people switching from originator biologics to biosimilars across therapeutic areas" - Kathy Vu, Assistant Professor - Teaching Stream
"As more biosimilars enter the market and clinical settings, there is a need for consistent and reliable information to help people switching from originator biologics to biosimilars across therapeutic areas," says assistant professor Kathy Vu. "These edX courses will help people who are currently using originator or biosimilar biologic medications get access to comprehensive information they need to feel more informed about their treatment and be active participants in their care."
The Discovery Pharmacy (DRx) provides an enriched, interdisciplinary student-learning environment where teaching, learning, research, and clinical service delivery occur simultaneously. In 2022, a total of 25 students completed five-week, non-direct and direct patient care experiential education rotations at the DRx. Students contributed to key areas of the pharmacy development process including technology, space planning, program and service development, and privacy.
70+ faculty and staff attended retreat at U of T's Faculty Club in February to launch the PharmD curriculum renewal process
23 international rotations completed by PharmD students
125 weeks of experiential learning rotations completed in the Discovery Pharmacy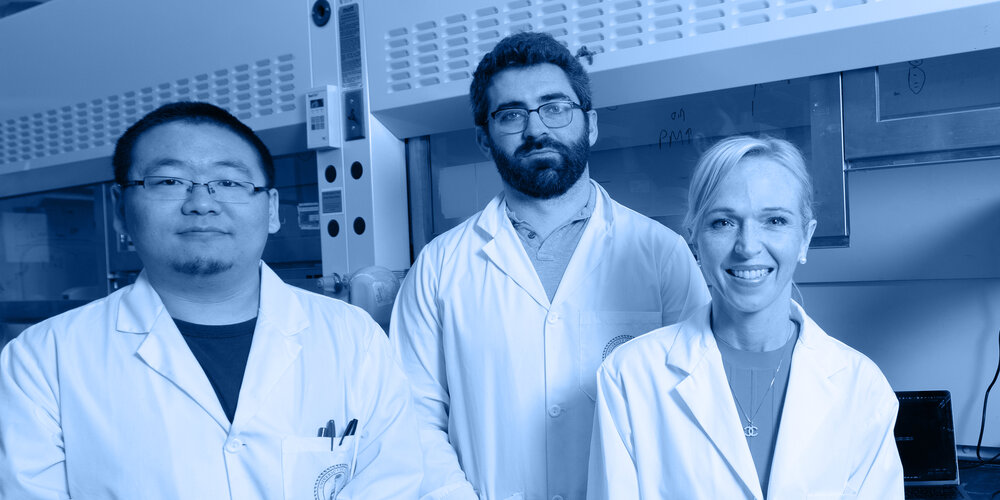 Deliver Impact through Cutting-Edge Discovery
Researchers at the Leslie Dan Faculty of Pharmacy are at the forefront of their fields, contributing to discoveries and advances across drug development, medication use, and clinical care. By tackling important questions at all stages of the research continuum and leveraging new and emerging technologies, we continue to drive impact to advance science, health care, and healthier societies.
This past year, we saw the rapid rise of AI and machine learning across society, including in health care the delivery and new ways to advance research. Led by Professor Christine Allen, a new facility at the Leslie Dan Faculty of Pharmacy, one of six at U of T being funded by $200-million grant to the Acceleration Consortium, is leveraging AI and automation to speed the development of new and improved drug formulations. 
"The world is finally understanding the impact of formulation technology and how powerful it is. Now we can marry that technology with AI and machine learning, so we're kind of unstoppable."

- Professor Christine Allen, Department of Pharmaceutical Sciences
The path by which new drugs and health technologies are approved and make it to the clinical point of care is also shifting. Collaborating with experts from the Canadian Agency for Drugs and Technologies in Health (CADTH) and Health Canada, Assistant Professor Mina Tadrous helped steer the creation of new guidance that lays the foundation for using real world evidence (RWE) in approval processes and helps develop a pathway to support the evaluation of newer drugs.
Interdisciplinary and multisectoral collaboration is key to research translation for patient and system impact. A leading example of this is PRiME, U of T's precision medicine initiative based at the Leslie Dan Faculty of Pharmacy. We recently announced the exciting news that University Professor Molly Shoichet is now PRiME's scientific director, and we look forward to her vision and leadership as she continues to advance PRiME as an accelerator and hub for innovation in precision medicine.
Faculty are also contributing to an enhanced role for pharmacy in a more integrated health system through the New Initiative and Innovation Awards, awarded to five research teams from the Leslie Dan Faculty of Pharmacy and Dalla Lana School of Public Health. These awards are being funded through the newly created Network for Improving Health Systems (NIHS), established by a generous $3 million donation from Shoppers Drug Mart in late 2022.  
In 2022-23, our researchers achieved more than $7-million in funding from tri-agency, government, private, and non-profit sectors.  Learn More.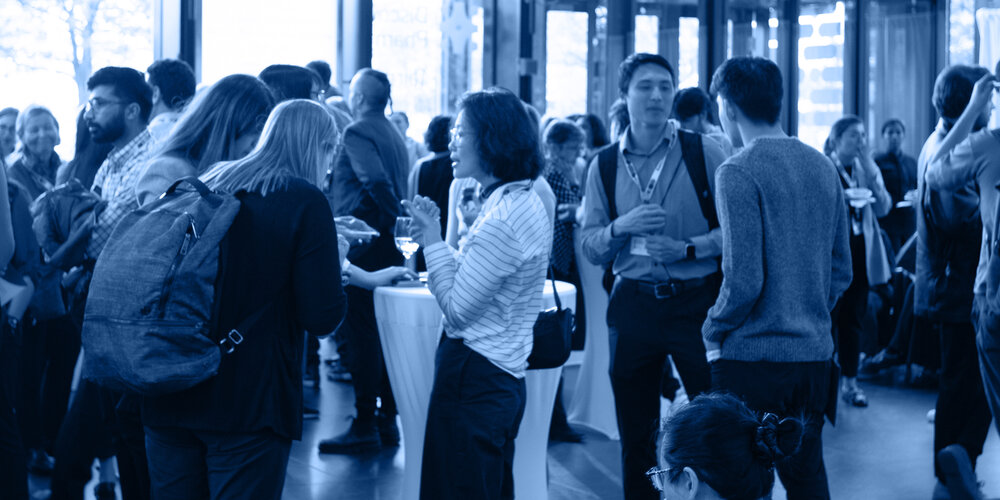 Build Leadership, Wellness and Community
In the wake of the COVID-19 pandemic, there has been much discussion about the widespread challenges our health system and health professionals face. Change is urgently needed, and the recent expansion in Ontario of pharmacists' scope of practice to treat minor ailments shows the vital role pharmacists can play in a better, more integrated health system. Through education, research, collaboration, and community building, we are playing a leadership role in defining the future impact of pharmacy and pharmaceutical sciences.
"Innovative and future-oriented health education and research programs are crucial to improving health care and meeting patient needs." - Lisa Dolovich, Professor and Dean
"Jurisdictions across Canada have been moving quickly to take advantage of pharmacist training and expertise to broaden pharmacist scope and improve access to and quality of care," said Lisa Dolovich, pharmacist and dean of U of T's Leslie Dan Faculty of Pharmacy. "Innovative and future-oriented health education and research programs are crucial to improving health care and meeting patient needs."
On August 11, the Leslie Dan Faculty of Pharmacy welcomed MPP and Parliamentary Assistant to the Minister of Health Robin Martin, who met with students, teaching faculty, and scientists to learn more about how pharmacists' training and exciting new research underway in pharmaceuticals sciences.
To help nurture and develop a leadership mindset and skills in emerging pharmacy professionals, the Faculty's Centre for Practice Excellence launched its first Leader-in-Residence this year. Emily Musing, the inaugural Leader-in-Residence, is an alum of both the Leslie Dan Faculty of Pharmacy and the Institute of Health Policy, Management and Evaluation at U of T and was, until her recent retirement, vice-president, clinical and chief patient safety officer at the University Health Network (UHN), where over a million patients are treated and cared for annually. Additionally, our successful Alumni Networking and Education events held a series on Leadership in Pharmacy that engaged nearly 4,000 viewers.
"As a mentor, it's a matter of helping to build confidence and to open people's eyes to see that yes, they truly can and should play that leadership role." - Emily Musing, Leader-in-Residence 
"Everyone has leadership potential within them," said Emily Musing. "As a mentor, it's a matter of helping to build confidence and to open people's eyes to see that yes, they truly can and should play that leadership role."
Mentorship is essential to building leadership and this past year the Advancement and Alumni Relations team celebrated a successful second year of the PharmaSEE Mentorship Program for PharmD students, matching nearly 40 students with mentors and leaders from across industry, hospital, and community practice.
Tackling the big questions in health care, the third season of the I'm Pharmacy Podcast, hosted by Mina Tadrous, explored "Big Problems, Bigger Solutions" and featured interviews with top experts from across health care. In January 2023, the podcast was recognized internationally with two Signal Awards for excellence in podcasting.  
We rounded out the academic term in May with a high-energy Faculty Open House event attended by more than 300 people, including U of T colleagues, alumni, students, faculty, and friends. Guests had the opportunity to reconnect with each other and learn about the Faculty's vision for the future of pharmacy and pharmaceutical sciences through mini-lectures, lab tours, and student poster presentations.
Enhancing our spaces and wellness:
In a major project, our Facilities team replaced 50 inefficient lights in the Atrium, resulting in more than $45,000 in energy savings per year and providing a brighter environment for students.
The Discovery Pharmacy team delivered more than 3,500 vaccines and immunizations to patients in the U of T community.
Starting November 2023, a new Fall Reading Week in the PharmD program will offer students students and faculty dedicated time to recharge during the academic year.
Focus on Leadership: Alumni Networking and Education Events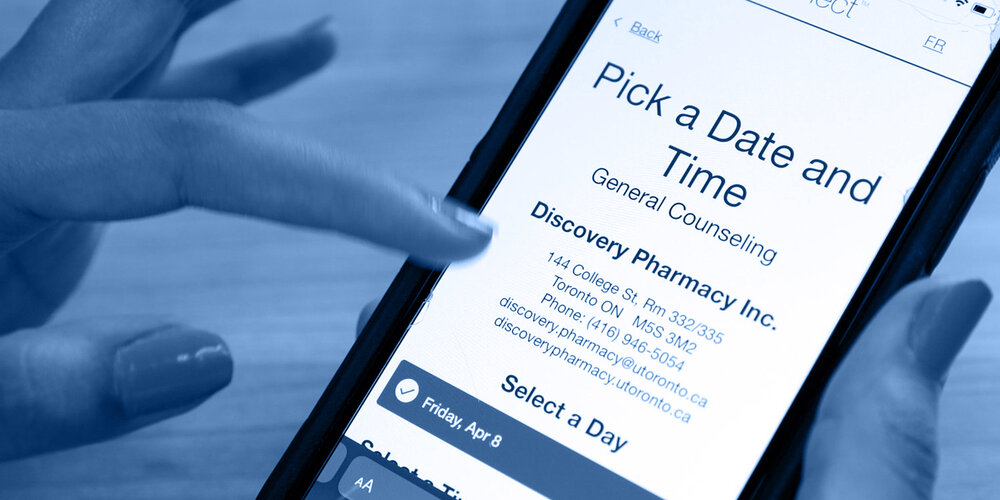 Advance Use of Digital Technology
Technology is changing health care, and society more broadly, in ways that did not seem possible only a few short years ago. Digital technology allowed learning and business to continue during the pandemic, and machine learning and high-tech research systems allow researchers to generate more results faster, speeding up the discovery timeline.
From April 2022 to July 2023, U of T's Resilience Project Team gathered information on innovative practices developed by the U of T community in response to the COVID-19 pandemic's impact on our university operations. The Ideas and Adaptations Toolbox features the Faculty's use of virtual simulations during remote learning and shares key learnings for colleagues across U of T.
In addition to accelerating lab-based science and innovation, our researchers and alumni are exploring using AI in health care to help administrators and physicians make decisions. Muhammad Mamdani, professor – status at the Leslie Dan Faculty of Pharmacy, is a leader in using large data sets and machine learning to help develop solutions for frontline health care workers. Karen Ng, (PharmD 2T0) received this year's Industrial Pharmacy Residency Program Award for work she did while at Leo Pharma to develop an AI tool called MUFASA (Medical information data Uses For AI Semantic Analysis) that received international recognition.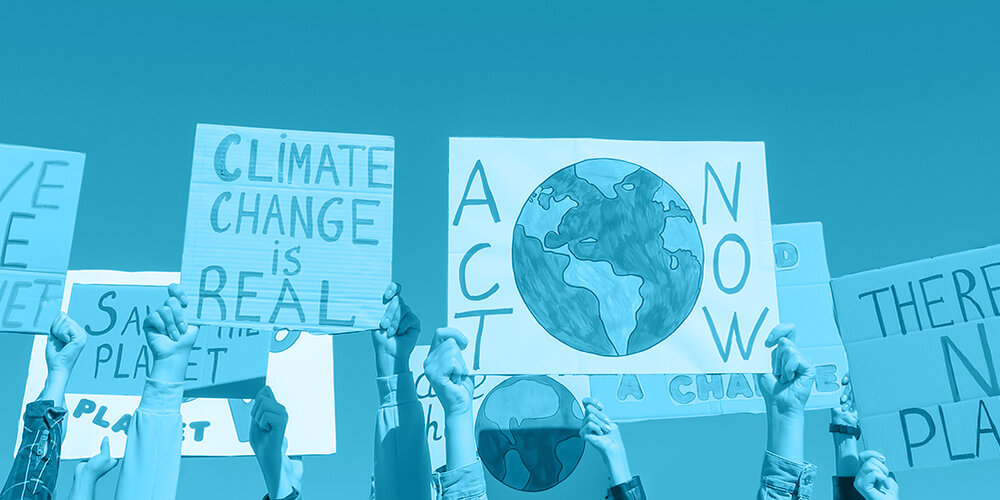 Support Sustainability in Health Care
Environmental sustainability and climate change are top of mind, especially after a summer of wildfires, extreme weather, and record-breaking global temperatures. We know the environment and climate impact human health and that the health care industry has a multi-functional role to play in creating sustainable practices, leveraging technology to address the impacts of climate change, and caring for those affected by climate crises.
The Faculty's Centre for Practice Excellence is working to develop tools to raise awareness, educate the pharmacy community, and advance climate conscious pharmacy practice.
But sustainability is not just about the environment. It is also about creating a health care system that is sustainable with a resilient, healthy workforce. Supporting the mental health and well-being of pharmacy students and pharmacists is key to ensuring that pharmacy professionals have the resilience and capacity to continue caring for patients throughout challenging times.
Faculty and staff from the Leslie Dan Faculty of Pharmacy continue to collaborate with health science colleagues across U of T on the development of the Scarborough Academy of Medicine and Integrated Health, set to launch in 2026. In particular, there continues to be in discussions to have a physical location in the new SAMIH building at UTSC. This building will be devoted to interprofessional health care including certain clinics that will provide a great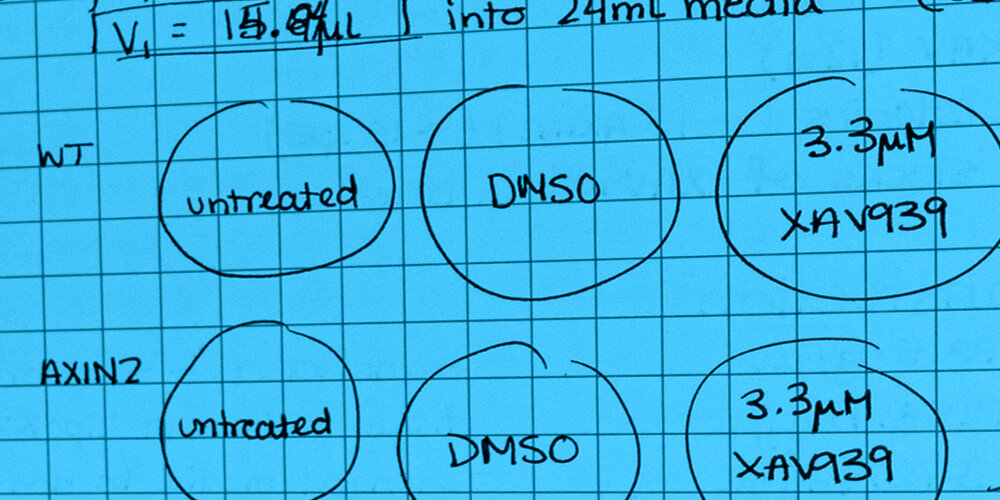 #1
pharmacy school in Canada
19
assistant professors, teaching stream
119
community-based and affiliated faculty
167,000
square feet of teaching and research space in one building
5 floors
of combined wet and dry laboratories
International
Pharmacy
Graduate
Program
Pharmaceutical
Sciences
MSc, PhD
112
enrolled
36 MSc, 72 PhD, 4 MScPhm
Undergraduate
Summer
Research
Program
21
students enrolled from universities across Canada
Office of Experiential Education
2,354
rotation placements
1,430 direct patient care
472 non-direct patient care
487,720
hours of rotations
1,902
APPE rotations
380,400 hours
452
EPE rotations
72,320 hours
Advancement and Alumni Relations
Donor Support
$1,000,000+
given to students in donor support
98.5%
of our donors are alumni
9
alumni events engaging close to 2,000 alumni
Our experts were featured in top national outlets, including:
The Globe and Mail
CBC Radio One
The Toronto Star
Research Funding
$7,470,480
total research funding awarded to Leslie Dan Faculty of Pharmacy researchers
Tri-Agency $4,352,795 (CIHR, NSERC, SSHRC)
Private Sector $619,057
Not-for-Profit Sector $1,682,482 (including foundations)
Government $816,154 (NIH, IDRC, Ontario Genomics, etc.)
82
applications submitted
29 successful
35 unsuccessful
18 pending
80
active grants
10 Government
24 Not-for-Profit
5 Private Sector
41 Tri-Agency
41
Tri-Agency grants
19 CIHR
13 NSERC
2 SSHRC
7 Other
Researcher Awards
16
researcher awards
4 salary awards
12 awards (honour and others)
Publications
430+
publications
This includes:
7 books and chapters
27 editorial reviews
8 policy / white papers
Conferences & Symposia
225
conferences attended
97 international conferences
60 national conferences
33 local conferences
Presentations by appointed Faculty members and trainees
138
abstracts
87
presentations
6
start-ups
4 ongoing
CTRL Therapeutic, Qurcan Therapeutics, ARMA Biosciences & Liberum Biotechnologies
19
commercialization projects
14 active
3 closed
2 licensed
11
patents, licences, and invention disclosures
2 patents issues
9 applications
Inventions Disclosures including a Student
9 include a student
Assignment
6 co-owned
2 assigned to U of T
1 assigned to inventor
Centre for Pharmaceutical Oncology (CPO)
21 Full Faculty
17 Associate Faculty
17 Research Staff
75 Full Trainees
25 Associate Trainees
10 Other (visiting professors, visiting students, health professionals, etc.)
10
graduate student scholarships given
6
bi-weekly seminar series featuring leading national and international experts from University of California San Francisco, Northwestern University, University of British Columbia, University of Montreal, University of Buffalo, and University of Manitoba.
Centre for Practice Excellence (CPE)
8
speaker series presentations
Canadian Pharmacists' Association
CASCADES
Centre for Addiction and Mental Health
Centre for Effective Practice
Centre for Sustainable Health Systems
Coulter's Pharmacy & Home Health Care
CUBIC Health
Discovery Pharmacy
EPICORE Centre
Health Products Stewardship Association
HealthPRO Procurement Services Inc.
International Pharmaceutical Students' Federation (IPSF)
Island Health, Royal Jubilee Hospital
Kristen's Pharmacy
Lawlor Pharmacy
Loblaw
McKesson Canada
Mount Sinai Hospital
National Bank
New Brunswick College of Pharmacists
New Brunswick Pharmacists' Association
NorthWest Telepharmacy Solutions
Ontario College of Pharmacists
Shoppers Drug Mart
Takeda Canada Inc.
The Ottawa Hospital
Thornbury Pharmasave
Trillium Health Partners
University Health Network (UHN)
University of Alberta
University of British Columbia
University of Otago
University of Waterloo
Victoria Park Pharmacy and Surrey Victoria Park Pharmacy
Weller Pharmacy
Women's College Research Institute
Yurek Pharmacy Limited
University of Saskatchewan
WHO Collaborating Centre for Governance, Accountability and Transparency in the Pharmaceutical Sector (WHOCC)
Research Fellows
Leslie Dan Faculty of Pharmacy, University of Toronto 

Dalla Lana School of Public Health, University of Toronto 

Carleton University (School of Public Policy and Administration)

Lawrence S. Bloomberg Faculty of Nursing, University of Toronto 

Faculty of Law, University of Toronto 

Temerty Faculty of Medicine, University of Toronto 

Rotman School of Management
Research Fellows
Munk School of Global Affairs and Public Policy

Li Ka Shing Knowledge Institute

Women's College Hospital Carleton University (School of Public Policy and Administration

Ontario College of Art and Design

Ministry of Health, Government of Ontario

University of Amsterdam

University of San Francisco

UC San Diego (School of Medicine)
3
collaborative seminars featuring leading national and international experts
Precision Medicine Initiative at University of Toronto (PRiME)
175+
trainees across 15 University of Toronto departments
3,123
patients from the U of T community received care
1,704
flu vaccines administered
1,812
doses of COVID-19 vaccine administered
16
APPE students completed in-pharmacy rotations