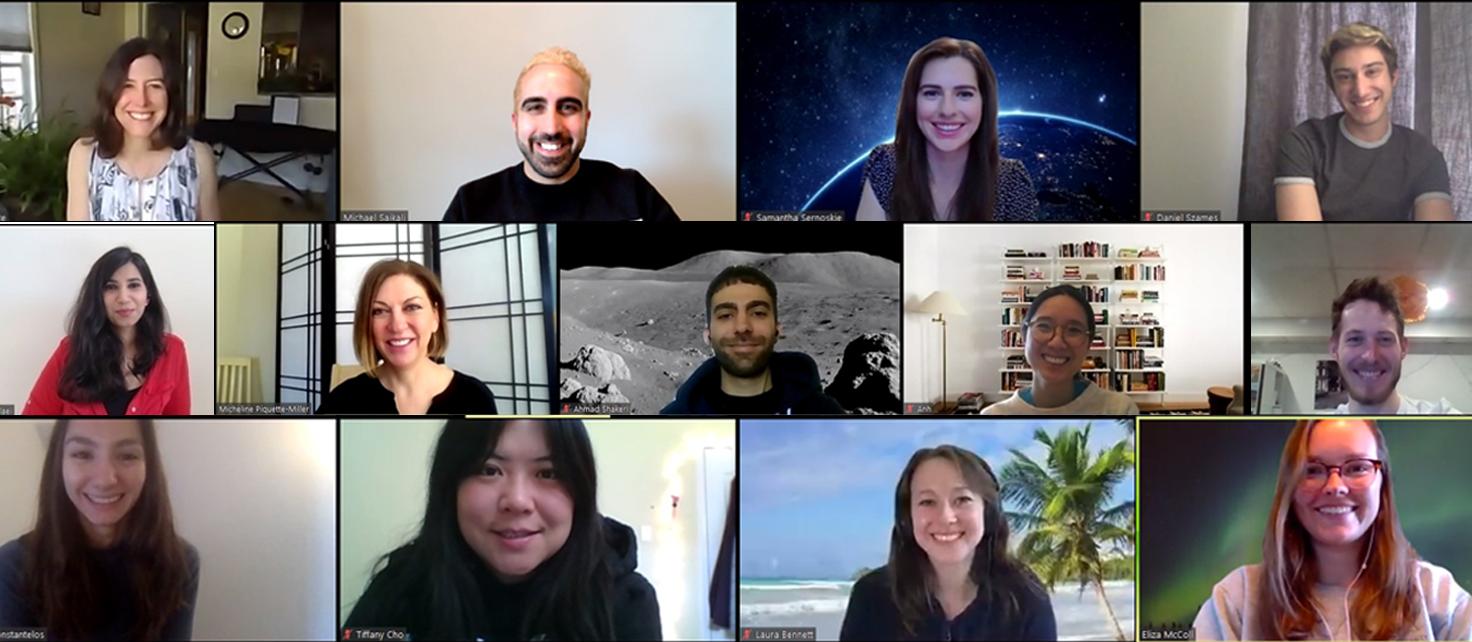 GRIP 2020 Organizing Committee, from left: Professor Suzanne Cadarette, Michael Saikali, Samantha Sernoskie, Daniel Szames, Fatemah Molaei, Professor Micheline Piquette-Miller, Ahmed Shakeri, Anh Nguyen, Max Regenold, Natalia Konstantelos, Tiffany Choi, Laura Bennett, and Eliza McColl.
By Eliza McColl and Michael Saikali
Each year, graduate students and faculty from the Leslie Dan Faculty of Pharmacy's Department of Pharmaceutical Sciences get together to celebrate Graduate Research in Progress (GRIP), a day-long conference showcasing research conducted by graduate students over the past year. Traditionally, GRIP is kicked off by an invited keynote address, followed by presentations from PharmSci alumni, student research talks and a poster session. The day is broken up with a delicious meal and coffee breaks, and capped off with a reception, drinks, and an award ceremony. It truly is a memorable annual event that kicks off the summer in our Faculty.
The planning for GRIP starts in September by forming the student-led GRIP Committee. The committee co-chairs Eliza McColl and Michael Saikali led a highly dedicated team of graduate students (Ahmad Shakeri, Daniel Szames, Fatemeh Molaei, Laura Bennett, Max Regenold, Natalia Konstantelos, Samantha Sernoskie, and Tiffany Cho) along with our faculty advisors Dr. Piquette-Miller and Dr. Cadarette to plan for the coming June 2020 GRIP. Little did we know what 2020 would bring.  
By the time COVID-19 cases were rising in Ontario and a province-wide shutdown was looming, the venue for GRIP had been booked, keynote and alumni speakers had been invited, and many of the logistics of organizing the conference were well underway. Despite our efforts, we had to face the reality that GRIP 2020 was not going to take place as we originally envisioned it.
So, what do you do when a global pandemic threatens the cancellation of something you have worked for months to prepare? You broaden your sights.
Back in the fall of 2019, the GRIP Committee had agreed to the theme "2020: Broadening Our Sight". In January we would welcome a new decade which we hoped would inspire many of us to reflect on our accomplishments and set goals for the future. Our original intention in choosing this theme was to encourage our faculty and students to challenge themselves while setting these goals to make them more diverse, inclusive, innovative, and creative.
COVID-19 and the subsequent closure of the university forced us all to "broaden our sights" considerably beyond the specifics of our research and professional lives. While our department rapidly shut down research and transitioned to working remotely, the GRIP Committee, along with the faculty administration, grappled with what GRIP could look like amid the pandemic.
During three months of working at home, students from our department continued to virtually present their research in student seminar series, advisory committee meetings, and even thesis defenses.
While the fancy venue, good food, and invited talks certainly add to GRIP, it is, at its core, a celebration of graduate student research. It was important to us that this central purpose – showcasing graduate research – be fulfilled in whatever form GRIP 2020 took. In a way, we had even more to celebrate this year given the remarkable resilience our students have exhibited during this pandemic. During three months of working at home, students from our department continued to virtually present their research in student seminar series, advisory committee meetings, and even thesis defenses. Some of our students even put their own research on hold to conduct critical COVID-19 research to actively fight the pandemic from the front lines.
After closure of the university, the GRIP Committee worked with the faculty administration over the next three months to pivot to a virtual GRIP. Thankfully for us, the GRIP Committee remained extremely, engaged, dedicated, and enthusiastic during this process. In the end, GRIP took place over two days via Zoom. Over 150 students and faculty from Pharmaceutical Sciences tuned in for research presentations given by graduate students. While GRIP 2020 did not look anything like what we had planned, it was a celebration, nonetheless.
GRIP 2020 Graduate Research Presentation Abstracts
Molecular Pharmacology and Pharmacokinetics
The liver x receptor-modified endothelial progenitor cell secretome: a new source of anti-atherogenic proteins
Sarah Shawky
Atherosclerotic heart disease remains a leading cause of death worldwide, accounting for 31% of annual mortalities. Due to genetic and environmental risk factors such as smoking or high blood pressure, cells lining the arteries can become damaged. This process, known as "endothelial cell dysfunction", facilitates the accumulation of cholesterol and inflammatory cells within the arteries, leading to the formation of plaques. A class of drugs called statins has been in use to help reduce plaque size by decreasing patient blood cholesterol levels. However, this strategy has been insufficient in preventing all heart disease, underlining the need for development of novel therapeutic strategies. Derived from the bone marrow where stem cells reside, endothelial progenitor cells (EPCs) are the precursors of the cells lining blood vessels. Activating a nuclear protein known as the liver X receptor (LXR) has been shown to decrease cholesterol levels in some inflammatory cells, improving their anti-atherogenic function. We have recently shown that activating LXR in EPCs allows them to secrete "factors" that decrease endothelial cell dysfunction in cell culture and reduce the size of cholesterol-filled plaques in atherogenic mice. This project investigates the molecular mechanisms by which this takes place, with aims of identifying the individual secreted factors responsible for these beneficial effects. Isolation of these factors from EPCs treated with LXR activators may reveal new proteins that can be used as therapies to target atherosclerosis.
Molecular Toxicology and Neuroscience
Poor developmental outcomes resulting from a breast cancer 1 (BRCA1) protein deficiency
Danielle Drake
The breast cancer 1 (BRCA1) protein is known to protect against breast cancer, birth defects and disordered brain function, caused by DNA damage. Normal forms of activated oxygen, termed reactive oxygen species (ROS), are essential for fetal development and can damage DNA. When the fetus lacks or is deficient in proteins that help repair damaged DNA, like BRCA1, especially when ROS production is enhanced by drugs like alcohol (ethanol, EtOH), the damage accumulates and causes abnormal fetal development. The developmental disorders in BRCA1-deficient mice particularly affect memory, while the exacerbated disorders with fetal EtOH exposure may be relevant to fetal alcohol spectrum disorders (FASD). To elucidate the role of BRCA1 in these disorders, we have characterized a genetically altered mouse model with half the BRCA1 protein levels of a normal mouse. We use this mouse model to determine how both normal and EtOH-enhanced ROS levels and prenatal DNA damage cause birth defects and postnatal behavioural differences, as well as how BRCA1 protects the fetus from DNA damage. Our results may identify new mechanisms and risk factors for behavioural disorders, like FASD. This knowledge could identify high-risk pregnancies and help to develop preventive strategies.
Pharmaceutical Diagnostics & Imaging
Radioimmunotherapy to prevent metastatic progression of triple-negative breast cancer
Valerie Facca
Triple-negative breast cancer (TNBC) represents 10-20% of breast cancers, and is a particularly aggressive subtype. TNBC carries a poor prognosis, with a higher risk of recurrence and spread to distant organs. By targeting the disseminated minimal residual disease (MRD) that is present after treating the primary breast tumour, it may be possible to prevent recurrence and metastatic progression. The extremely short range of Auger electrons is ideal for treating the individual circulating tumour cells and small metastases that comprise MRD. Auger electron radioimmunotherapy combines this short-range radiation with the cell-specific targeting of antibodies. We coupled the Auger electron emitter 111In with panitumumab, a monoclonal antibody that binds the epidermal growth factor receptor (EGFR) which is overexpressed in most TNBC tumours. We have demonstrated that this radioimmunotherapy (111In-panitumumab) binds with high affinity and causes lethal damage to TNBC cells. Molecular imaging of 111In-panitumumab has further shown that this radioimmunotherapy targets TNBC primary tumours and metastases in clinically-relevant models. These results are promising for future studies investigating 111In-panitumumab radioimmunotherapy for preventing progression, and prolonging survival of TNBC.
Pharmaceutics & Biophysical Chemistry
Prototype skin patch to prevent low blood sugar in diabetes
Brian Lu
Insulin therapy-associated hypoglycemia (low blood sugar) is one of the greatest fears among all people living with type 1 diabetes. Characterized by symptoms such as sweating, trembling, dizziness and confusion, hypoglycemia can lead to seizures, coma, and even death if left untreated. Unfortunately, current approaches to help manage low blood sugar is limited to the balancing of insulin therapy and lifestyle, and emergency treatment kits that require intervention from the patient or caregiver.
Brian Lu, a senior PhD student from Dr. Shirley Wu's lab, has helped design a novel glucose-responsive ("smart") transdermal microneedle patch for the prevention of hypoglycemia. Applied to the skin during sleep, exercise or when performing full-attention tasks such as driving, the prototype patch can sense when blood glucose levels are below the normal concentration and then automatically release the counter regulatory hormone, glucagon, for tighter glucose control. This system is unique because it circumvents the need for patients or caregivers to recognize the signs of low blood sugar and emergency intervention kits. The work was recently published in Advanced Materials (2019) and Brian is currently working on the optimization of the prototype patch and extending the duration of its activity.
Clinical Social & Administrative Pharmaceutical Sciences (Health Services/Policy)
Impact of Policy Changes on Utilization of Medication Review Services Among Ontarians Living with Diabetes
Ahmad Shakeri
Adults with diabetes often take multiple medications to manage not only hyperglycemia, but also hypertension, hyperlipidemia and other comorbidities. The risk of drug therapy problems is therefore substantive and medication reviews are one method to optimize the safety and effectiveness of a patient's medication regimen. Since 2007, the Ontario government has funded pharmacy medication review services (MedsCheck Annual) for residents taking 3+ chronic medications. In 2010, MedsCheck was broadened to include patients living with diabetes (MedsCheck Diabetes). In an effort to standardize service delivery, a policy change was initiated in 2016 that added structured pharmacist documentation, including extra diabetes-specific education and goal-setting. In addition, pharmacists needed to provide evidence of diabetes educator training to provide MedsCheck Diabetes. The objective of our project was to examine the impact of the 2016 policy change on the delivery of MedsCheck services among adults with diabetes in Ontario.
Clinical Social & Administrative Pharmaceutical Sciences (Clinical Research)
Community pharmacists as antimicrobial stewards: a focus on acute otitis media
Katherine Koroluk
Antimicrobial stewardship (AMS) programs and initiatives attempt to optimize the use of antibiotics.  With the majority of antibiotics prescribed for patients not admitted to hospital, AMS programs focusing on primary care are pivotal. Most of these outpatient AMS initiatives focus on prescribers, with community pharmacists being largely forgotten despite their role as the gatekeepers of prescription antibiotics.
Antibiotic prescriptions for paediatric middle ear infections frequently do not match guideline recommendations; they are often under-dosed or continued for longer than is necessary.  A community pharmacy-based AMS program was developed to leverage community pharmacists to optimize the use of antibiotics for paediatric ear infections. Pharmacists were provided with education and practice tools and were encouraged to utilize their ability to independently adapt prescriptions in order to optimize antibiotic use. Pharmacists were provided with monthly feedback and coaching about their antibiotic dispensing habits for ear infections. Overall, this AMS program was able to double the appropriate use of antibiotics in this population. Given their expertise and positioning within the healthcare system, community pharmacists can be an important part of improving the use of antibiotics.