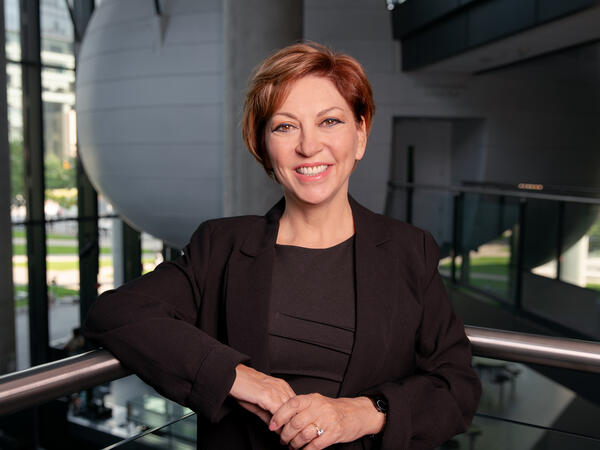 Micheline
Piquette-Miller
Clinical Pharmacy Research
Drug Development & Disease Diagnostics
Drug Safety
144 College Street
Toronto ON M5S 3M2
Canada
Area of Research
Micheline Piquette-Miller's research focuses on understanding the regulation of drug transport proteins in the placenta. Her lab investigates the influence of disease and environmental factors on the regulation of transporter proteins and on maternal and fetal health.
Research Challenge
Drug transport proteins carefully regulate the entry of drugs into tissues such as the kidney, liver and blood-brain barrier. These transporters also regulate the transfer of nutrients, drugs and other molecules between mother and fetus through the placenta.
Whether a fetus is exposed to some drugs and other potentially harmful substances circulating in the mother's blood depends on the function and regulation of transport proteins at the placental barrier. Maternal diseases, especially inflammatory diseases, can dysregulate these transport proteins. However, there is a general lack of knowledge about the effect of disease on transporters and the impact on maternal and fetal exposure to their substrates, thus putting both mother and baby at risk.
Proposed Solution
Piquette-Miller investigates how disease conditions and environmental factors influence drug transporter expression and activity with the aim of understanding the underlying cellular and molecular regulatory mechanisms and how changes effect maternal and fetal health. Using in vitro cell and tissue models and experimental animal models, her lab studies ABC and SLC transporters that are involved in the passage of drugs, toxins, hormones and nutrients. The Piquette-Miller lab collaborates with clinicians from a number of hospitals to conduct translational research, including human tissue studies, that investigates the impact of maternal disease on transporters in placenta and resulting effects on maternal-fetal transfer of the compounds they transport. This will assist in optimizing therapeutic choices and guidelines.
The lab is also involved in a collaborative research program with Christine Allen to develop novel therapeutics and treatment strategies to improve the treatment of ovarian cancer.
Impact To Date
The Piquette-Miller lab has found that a number of diseases – mostly inflammatory diseases –substantially decrease the expression and function of placental drug transporters. Many of the results observed in preclinical animal studies were also found to translate to humans. They have also published a number of studies on cancer therapy, including studies identifying drug combination strategies for treatment of ovarian cancer, drug delivery strategies to improve targeting of chemotherapy agents, and drug dosing strategies to improve tumour responsiveness.
Piquette-Miller has worked with the American Food and Drug Association (FDA) to help develop industry guidelines for conducting drug interaction studies with in vitro, computer modelling and clinical methodologies.
Publications
---
Keywords: drug transport proteins, drug transport, drug disposition, drug efflux transporter, blood-brain barrier, fetus, ovarian cancer, cancer, breast cancer, tumor cells