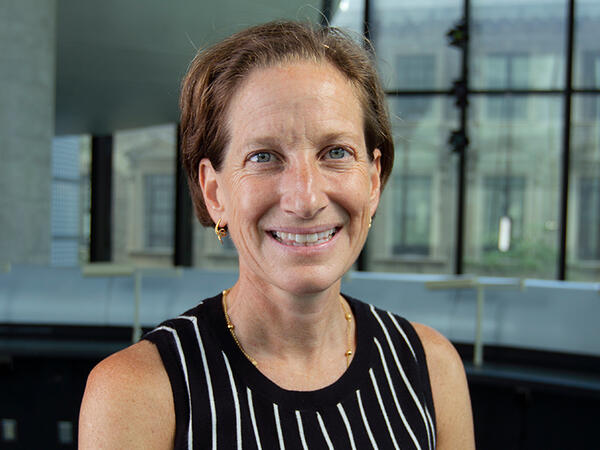 Marisa
Battistella
Clinical Pharmacy Research
Drug Safety
Health Services Research
200 Elizabeth St.
EB 214
Toronto ON M5G 2C4
Canada
Area of Research
Marisa Battistella is a pharmacy clinician scientist specializing in chronic kidney disease (CKD). The objective of her research program focuses on translational studies that address unmet clinical needs across the entire spectrum of pharmacotherapy care in the CKD patient, from pre-prescribing (using genomics to guide the selection of drugs) to deprescribing (tapering, stopping, discontinuing or withdrawing drugs), with the goal of managing polypharmacy (use of multiple medications) and improving patient outcomes.
Research Challenge
CKD affects approximately 2.5 million Canadians, and these patients are at much higher risk of morbidity and mortality compared to those patients without kidney disease. Individuals with CKD often experience other comorbid chronic conditions (e.g., hypertension, diabetes, cardiovascular disease) that require long-term medication management, and thus have the highest pill burden of all chronically ill patient populations. This places patients with CKD at increased risk of adverse events (drug reactions, drug-drug interactions, non-adherence to medications) and mortality related to polypharmacy.
Proposed Solution
In her clinical work, Battistella works on optimizing medications for individual patients by pre-prescribing, prescribing, and deprescribing medications. By adopting a personalized approach to medication management, she is improving the disease outcome for many of her patients with CKD.
The Battistella research group conducts multidisciplinary research on a range of topics including genomics, pharmacokinetics and deprescribing. Using in vitro cell cultures, her team investigates drug metabolism in CKD patients compared to healthy individuals. The team also conducts pharmacokinetic studies to ensure appropriate prescribing of antibiotics in patients with CKD. Finally, this group also works on developing and validating algorithms that are accessible to both clinicians and patients in order to optimize medications in the CKD population.
Impact To Date
Battistella's unique skills – including clinical expertise in nephrology, clinical teaching and collaboration with a wide spectrum of researchers – have allowed her to build a research program focused on translating pharmacogenomics and pharmacokinetic data to patient care that will improve the pharmacotherapy management of patients suffering from chronic kidney disease.
---
Keywords: dialysis, medication optimization, hemodialysis, nephrology, chronic kidney disease, pharmacokinetics