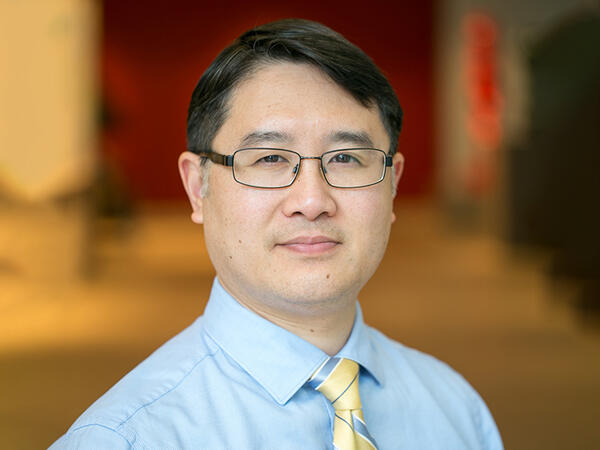 Chris
Fan-Lun
Clinical Pharmacy Research
2075 Bayview Ave
L102C
Toronto ON M4N 3M5
Canada
Chris graduated from the Leslie Dan Faculty of Pharmacy at the University of Toronto and went on to complete a hospital practice residency at Mount Sinai Hospital.  He is a board certified geriatrics pharmacist (BCGP) with more than 20 years of experience in acute care. He is a based at the Veterans Centre of Sunnybrook Health Sciences Centre, working as a Pharmacy Clinical Coordinator with a focus on palliative care, geriatrics and general internal medicine.
Chris currently teaches in PHM101H1 (Pharmacotherapy 1: Foundations and General Medicine) and in PHM352H1 (Pharmacotherapy in Older Adults).  He is a faculty liaison and mentor for the Pharmacy Awareness of Geriatrics (PAG) student special interest group. His scholarly interests include medication optimization in frail older persons, interprofessional education and delirium.
Selected Publications
Volling C, Stirling RG, Uhthoff P, Salvadori M, Brooks J, Acorn M, Clarke B, Eby H, Goldman R,  Iaboni A, Jones R, Mather FJ, Moser A, Quail P, Robert B, Stall N, Wong C, Fan-Lun C, Chung YE, House A, Ofner M. Public Health Agency of Canada. Interim guidance: Care of residents in long term care homes during the COVID-19 pandemic. [2020, July 17]. Available from: https://www.canada.ca/en/public-health/services/diseases/2019-novel-coronavirus-infection/guidance-documents/residents-long-term-care-homes-covid-19.html
Stall NM, Farquharson C, Fan-Lun C, Wiesenfeld W, Loftus CA, Kain D, Johnstone J, McCreight L, Goldman RD, Mahtani R. A Hospital Partnership with a Nursing Home Experiencing a COVID-19 Outbreak: Description of a Multi-Phase Emergency Response in Toronto, Canada. J Am Geriatr Soc 2020.  doi:10.1111/jgs.16625. Online ahead of print.
Fan-Lun C, Chung C, Lee EHG, Pek E, Ramsden R, Ethier C, Soong C.  Reducing unnecessary sedative-hypnotic use among hospitalised older adults. BMJ Qual Saf. 2019 Dec;28(12):1039-1045.
Turchet C, Canfield AB, Williamson D, Fan-Lun C, Tabbara N, Mantas I, Sinha S, Burry L. Detecting Delirium in Hospitalized Elderly Patients: A Review of Practice Compliance. Journal of Pharmacy Technology. 2018 Feb; 34(3): 91–98.
Pek EA, Remfry A, Pendrith C, Fan-Lun C, Bhatia RS, Soong C. High Prevalence of Inappropriate Benzodiazepine and Sedative Hypnotic Prescriptions among Hospitalized Older Adults. J Hosp Med. 2017 May;12(5):310-316.
Soong C, Cram P, Chezar K, Tajammal F, Exconde K, Matelski J, Sinha SK, Abrams HB, Fan-Lun C, Fabbruzzo-Cota C, Backstein D, Bell CM. Impact of an Integrated Hip Fracture Inpatient Program on Length of Stay and Costs. J Orthop Trauma. 2016 Dec;30(12):647-652.
Farquharson T, Fan-Lun C. The challenge of prescribing statins for primary prevention in the elderly. Canadian Geriatrics Society Journal of CME. 2015 Nov;5(2):31-40.
Amadio A, Chau V, Wyllie A, Fan-Lun C. How not to harm your patient: tips on prescribing for the elderly.  Canadian Geriatrics Society Journal of CME. 2011 Dec;1(1):13-16.
Walker SE, Fan-Lun C, Wyllie A, Iazzetta J, Law S. Physical Compatibility of Pantoprazole with Selected Medications during Simulated Y-Site Administration. Can J Hosp Pharm. 2004;57(2):90–97