Zoom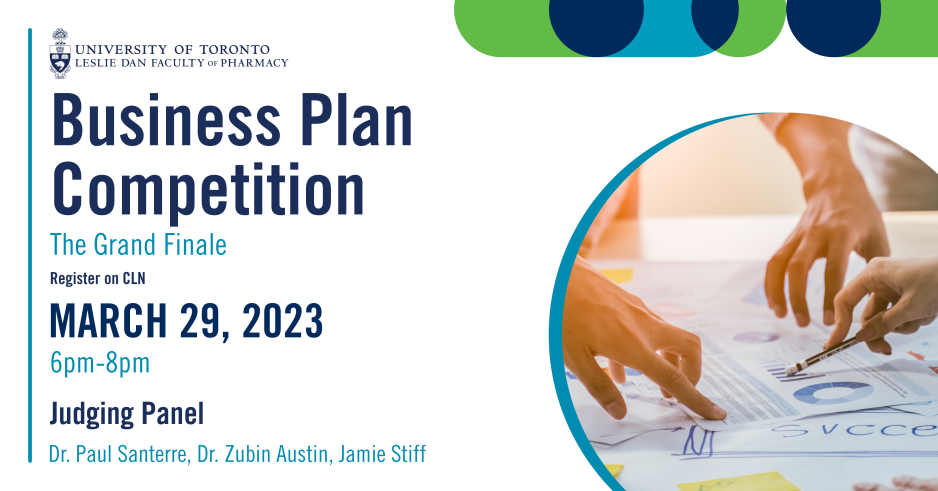 On Wednesday, March 29th, 2023 from 6pm to 8pm EST, you will have the opportunity to see the top Six Teams present at the Grand Finale of the Leslie Dan Faculty of Pharmacy Business Plan Competition. 

The Annual Business Plan Competition provides an opportunity for students at the Leslie Dan Faculty of Pharmacy to bring together their clinical and business skills to create novel solutions that can improve individual patient care and have a positive impact on the wider healthcare system.
The top three teams will be awarded a total of $10,000.
1st prize - $5000
2nd prize - $3000
3rd prize - $2000
Registration
Faculty, Staff, Alumni Registration 
Judging Panel
Dr. Zubin Austin
Zubin Austin BScPhm MBA MISc PhD FCAHS is Professor and Koffler Research Chair at the Leslie Dan Faculty of Pharmacy and the Institute for Health Policy, Management, and Evaluation at the Temerty Faculty of Medicine – University of Toronto.  His research focuses on the professional and personal development of the health workforce.  He has published over 200 peer reviewed manuscripts and authored 4 textbooks. In 2017, in recognition of the societal impact of his research, he was installed as a Fellow of the Canadian Academy of Health Sciences, one of the highest honours for health researchers in Canada.  He is also the only University of Toronto professor ever to have received both the President's Teaching Award for sustained excellence as an educator and the President's Research Impact Award for the global significance of his work.  He has been named undergraduate Professor of the Year by students on 20 separate occasions.
Dr. Paul Santerre
Professor J. Paul Santerre is Director of the Health Innovation Hub at the University of Toronto.
Paul has significant lived entrepreneurial experience. He is a co-founder of Interface Biologics (IBI) and current CSO for IBI and Ripple Therapeutics along with being and advisor to several other healthcare companies.
As an academic, Paul has published over 195 peer reviewed publications and is a listed inventor on over 70 patents in the area of medical polymers, biodegradation, protein and blood interactions with surfaces, surface modification, regenerative medicine, and drug delivery. This research has led to the training of more than 70 graduate students, multiple postdoctoral fellows and more than 130 undergraduates, and >$50M CAD in grant funding.
Jamie Stiff
Mr. Stiff joined Genesys Capital in 2002 and became Partner at the firm in 2007 and Managing Director in 2016. During his tenure with Genesys, he has been responsible for investments in several early-stage portfolio companies that cross a multitude of clinical disciplines and technology areas. Current board affiliations include EBT Medical, Inc., Giiant Pharma Inc., Inversago Pharma Inc. and Veralox Therapeutics, Inc. Past board affiliations include Allostera Pharma, Fairhaven Pharmaceuticals (acquired by Liminal BioSciences Inc. NASDAQ:LMNL), gIcare Pharma, Interface Biologics, Matregen, Naurex (acquired by Allergan NYSE:AGN), NeurAxon, StemPath, Therapeutic Monitoring Systems and Zelos Therapeutics. Mr. Stiff also volunteers as a board member for BioteCanada, and as an advisor to the Ontario Genomics Institute (OGI), the Centre for Commercialization of Regenerative Medicine (CCRM) and Medicine by Design and as an associate with the Creative Destruction Lab (CDL).
Prior to joining Genesys, Mr. Stiff worked at the Samuel Lunenfeld Research Institute at Mount Sinai Hospital in the genetic diagnostics field. This experience, combined with an academic background in biology, has provided significant technical knowledge of many areas of life sciences. Mr. Stiff completed a Bachelor of Science (Honours) from Queen's University and an MBA from the Rotman School of Management.