Types of Pharmacy Residencies
Students looking to gain practical experience as part of their pharmacy education can take advantage of two types of residency programs through the Leslie Dan Faculty of Pharmacy.
Hospital Pharmacy Residency Programs
Hospital Pharmacy residencies in Ontario are co-ordinated by the Pharmacy Residency Forum of Ontario (PRFO). The accredited residency programs follow the standards and guidelines of the Canadian Pharmacy Residency Board (CPRB). Individual programs are affiliated with one of the academic pharmacy programs in Ontario, including the Leslie Dan Faculty of Pharmacy at the University of Toronto. These 12-month learning experiences involve structured rotations in pharmacy practice, education, research, and administration. The goal is to prepare pharmacists for challenging and innovative pharmacy practice careers. The residency year will start between July and September. 
For more information and to apply for a hospital residency, please visit the Canadian Society of Hospital Pharmacists site.
For information about a Hospital Pharmacy Residency/MSc Combined Program, please visit the Master of Science in Pharmaceutical Sciences (MSc) site.
---
Industrial Pharmacy Residency Program
The Industrial Pharmacy Residency Program (IPRP) is administered by the Leslie Dan Faculty of Pharmacy, University of Toronto, in cooperation with participating Pharmaceutical Companies as listed below. These one-year specialty residencies develop skills and provide experience focused within the stated specialty area. This is an educational residency program for graduates from a recognized Pharmacy degree program; it is not an application for a position with a pharmaceutical company.
Applications Now Open
Applications are now invited for Residencies occurring from September 2021 to August 2022. Please click here if you are a current U of T student where you will login with your UTORID to access the application form and process.
If you are not currently a U of T student, please click here for a login. (This may take 3-5 days so please do as soon as possible). In the interim, you may prepare to upload the following as part of the application:
Applicant Contact Information
University Transcripts from Pharmacy program (in PDF format; unofficial copy accepted – verification may be required)
A Letter of Intent (300 words max) to outline reasons for applying to the Industrial Pharmacy Residency Program. (Letters may simply be headed: Letter of Intent for Industrial Pharmacy Residency Program)
Resume or CV
Reference form (listing contact information of two referees)
Note: Applications will be accepted until September 30, 2020. Approved applicants will then have until Oct 15, 2020 to finalize their selection of positions. We recommend initiating your application through the CLN link as soon as possible.
Participating Companies

Abbott Laboratories
Alexion
Bayer Inc.
Eli Lilly Canada Inc.
GlaxoSmithKline Inc.
Hoffmann-La Roche Ltd.
Sanofi Genzyme
Sanofi Pasteur
News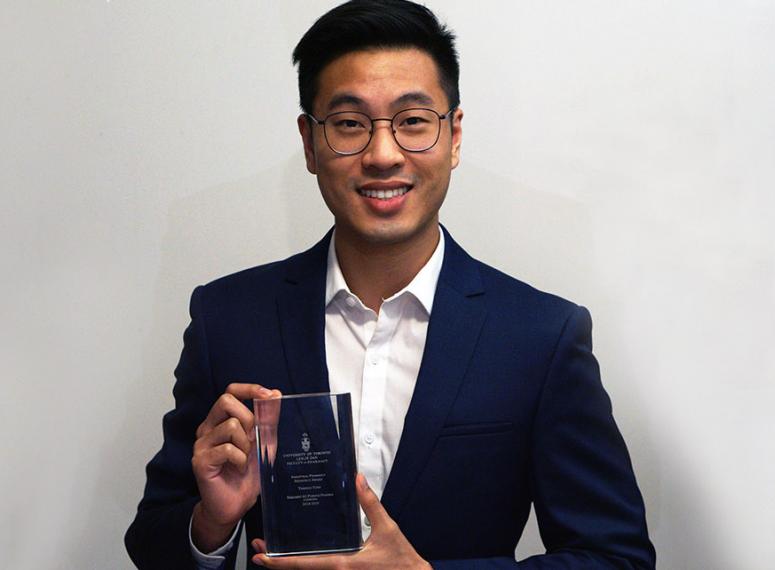 Terence Yuen, a PharmD graduate from the class of 2018, has been recognized for his leadership and initiative during his residency through the Leslie Dan Faculty of Pharmacy's Industrial Pharmacy Residency Award.
Read More
Program Contact
Residency Coordinator
144 College Street